The idea that women can work with men in welding might seem new and unusual. However, women made up 65% of the industrial workforce at the height of World War II in 1943, and many of them were recruited into the welding industry, replacing the men shipped overseas to fight. They helped build vehicles, aircraft, ships, and other equipment required for the war effort. And it's safe to say their contributions were immeasurable.
However, when the war ended, these women lost their jobs to returning male service members. Gender norms returned, and even though the number of women welders is steadily increasing today, welding continues to be viewed as a "non-traditional" career for women.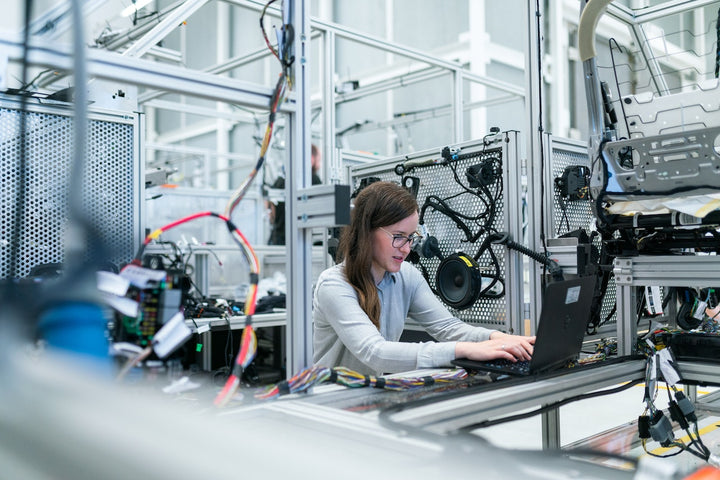 Many will argue (mostly male employers) that women are not a good "fit" for the construction trades, particularly welding jobs. They point out the physical attributes required for welding: strength, endurance, balance, and hand-to-eye coordination, which they say most females don't possess.
Or do they? Studies show that women hold several advantages over men that might make them better welders in some cases. Here are the three most noteworthy traits helping women compete with men for welding jobs
1. A lower center of gravity
According to a study published in the National Library of Medicine, on average, women have an 8 -to 15% lower longitudinal center of gravity, or center of mass relative to height, than men. Since welding requires working in places high above the ground, holding a perfect balance is critical. In other words, a lower center of gravity allows women to perform these tasks with less chance of falling and injuring themselves.
2. Better hand stability
Physical strength is insufficient if your hands tremble, especially during precision work such as TIG welding. And women tend to be better at this type of work, since their hands don't shake nearly as much as men.
On average, men's hands tend to shake 1.3 times more than women's hands do. Hand stability is crucial for precise manual operations, and men experience tremors 1.6 times larger than women at low force levels.
3. Women tend to take better care of their health
Women welders are healthier than their male counterparts because they take better care of themselves. While women follow all the protocols regarding security, use all the safety equipment available to them, and follow all the safety procedures precisely, many men disregard them.
Research involving 1,001 (447 female; 554 male) welders showed that 54% of women, as opposed to 46% of men, use respiratory protection. Working conditions made men more susceptible to shoulder pain and asthma or wheezing. Overall, it supported that women are far better at caring for themselves than men.
What percentage of welders are female?
The percentage of female welders is growing. For instance, in 2010, 6.7% of all welders were female, but by 2022, that percentage had increased to 7.7%. These figures pertain to the 418,659 people with the specific job title of welder, of which 32,236 were female welders.
How much do female welders make?
A female welder's salary lags behind the average male welder. Men earn an average annual salary of $39,349, while females earn $33,363. In other words, women earn 85 cents for every dollar a man earns.
The most famous female welders
Although more than nine out of ten welders are male, women have begun breaking into the male-dominated welding industry. They are not merely tokens but are working hard to prove their worth and are dedicated to shaping the industry and paving the way for other women in welding.
Here are six prominent female welders and their contributions to welding:
Pa'Trice Frazier
Pa'Trice Frazier is a master welder and instructor, raised in South Jersey by her grandmothers. She started college, but soon discovered she preferred working with her hands. She trained and specialized in TIG (tungsten inert gas) welding, which requires precision and attention to detail.  
Frazier is among just 7.7% of women welders nationwide and the only black female weld instructor in the Philadelphia metro area.  Her company, Weld Jointed, is tasked with educating "individuals from all fields and diversities about the benefits of pursuing a career in welding."
Sue Silverstein
Sue Silverstein is a welding instructor at Milwaukee Area Technical College (MATC) and a member of the Wisconsin Women in Trades and Vocational Education (WITVE) as well as the American Welding Society (AWS) E3 Committee.
Sue started her welding career as an apprentice at Firestone Tire and Rubber Company. She received an Associate in Applied Science Degree in Welding Technology from MATC, currently working as an instructor in their Welding Diploma Program. Silverstein has also worked with Girl Scouts and serves on the board of the Wisconsin Welding Society.
She believes that women can succeed in welding and is proud to be a member of the Welding Society. She encourages women to consider trade careers and is a role model for those who choose that path.
Ericka Heckman
Ericka Heckman, a welder from Knoxville, Tennessee, has been welding since she was 16. She competed in the SkillsUSA National Competition in Louisville, Kentucky, and was part of a team that won the gold medal in the manufacturing competition. Later, she was selected to represent the United States at WorldSkills 2015, an international competition in Brazil.
Erika has been welding professionally, but her long-term goals include becoming a welding supervisor and a nuclear pipe welder, which require lots of experience while carrying a great deal of clout.
Barbara Parsons is an American metal sculptor, published author of six books, and a skilled trades advocate from Pompano Beach, Florida. Her parents encouraged her to work with her hands and mind to be creative.
Barbie began by attending an adult welding program in Elmira, New York, and was hired at Cameron Manufacturing and Design, where she experienced the art of welding and fabrication. She took those skills home and developed them to design and create art in her garage.
Barbie eventually quit her job to follow her dream and become a full-time artist. She soon began teaching weld art through her YouTube channel in 2015, which resulted in her being asked to write a book teaching weld art. She would go on to write five more books on various welding themes.
Barbie has welded live at the Americade Motorcycle Rally, the SEMA show in Vegas for Miller Welders, Harley Davidson's 115th Anniversary, and at shows and events up and down the East Coast. She has designed and created sculptures for Miller Welders, the American Welding Society, Chicago Pneumatic, Carolina Shoe Company, and many foreign clients.
Alexandra Ivleva
Alexandra Ivleva is a well-known Russian welder and artist who battles against gender stereotypes in a country where roles for men and women are clearly defined. With a wardrobe of special welding dresses, she doesn't sacrifice her femininity when she turns on her soldering iron and dons a welding mask.
Alexandra had worked in this traditional masculine trade for several years before attracting attention by creating a sizeable meditating cat called Tihvami for the international Moscow Flower Show in 2015.
Since then, Alexandra has generated new ideas for sculptures and other projects. She is particularly proud of her various rocking chairs of numerous shapes, calling them interactive sculptures. Although her creations are less likely to be seen in exhibition halls, they populate many Russian parks, where they are used as benches, swings, and quiet areas for meditation.
Stephanie Hoffman
Stephanie Hoffman is the last-but-not-least profile on the list of famous female welders. As one of the few female faces of welding, she has launched a successful business called UnderGround Metal Works and starred on the popular Netflix show Metal Shop Masters. She is also opening a welding school to inspire a new generation of metal fabricators.
Hoffman took welding classes as electives during high school and became one of the first female graduates in the welding track. She eventually secured more American Welding Society (AWS) certifications than her male classmates, making up for all the pressure she felt having to prove herself continuously!